Wirral man has organ donor card tattooed on arm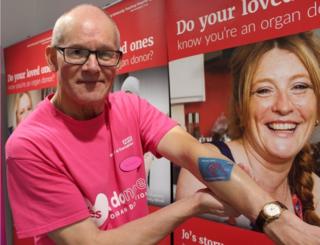 A grandfather who donated a kidney has had his organ donor card tattooed on his arm in a bid to encourage others to commit to giving away organs.
Hospital volunteer Paul Dixon has encouraged more than 6,600 people to sign up to the organ donor register.
The 68-year-old, from Wirral, had the card inked on his arm in a bid to raise further awareness for the cause.
He said: "This is totally out of character for me. I've never had a tattoo before."
A tattoo studio completed the work for free and donated money to the Give a Kidney charity.
Mr Dixon, who volunteers two days a week in the foyer at Wirral University Teaching Hospital, and also at the Royal Liverpool Hospital, continued: "People have noticed it and it starts a conversation.
"I wanted to raise awareness and thought while I'm standing in the foyer people might see the tattoo and stop.
"Organ donation means a lot to me. I can't lose my donor card because it's always there now."