Officer who Tasered Liverpool man 'not to blame'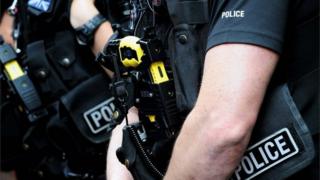 A police officer who Tasered a man for 11 seconds acted "in the agony of the moment" and "could not be blamed", Appeal Court judges have ruled.
James McCarthy, 27, who suffered a cardiac arrest, was struck twice outside a Liverpool hotel in 2012.
An earlier ruling that he was was unlawfully Tasered set the bar for unreasonable force "too high", the judges agreed.
The force must still compensate him for failing to provide proper aftercare.
Merseyside Police had objected to a judge's findings last year that the second Tasering amounted to "battery".
Ruling in the force's favour on Tuesday, Lady Justice Heather Hallett said the officer was "distracted by a possible attack".
When police arrived at the Albert Docks hotel to reports of a scuffle, one of the two officers was "knocked to the ground with considerable force".
The other officer fired his Taser twice at Mr McCarthy - the second time for 11 seconds - when he and a friend ran directly at him.
'Highly charged'
However, she said: "In the agony of the moment, he [the officer] failed to release the trigger after the initial burst of five seconds."
She concluded: "To find that the use of force was unreasonable was to set the bar that (the police) must meet too high".
Mr McCarthy's claim for £100,000 in damages for the consequences of the Tasering was rejected.
The joiner from West Derby said the incident had left him with blackouts, anxiety and depression.
However, judges ruled the officer who fired the Taser was in fear for his safety and "genuinely believed Mr McCarthy intended to attack others".
He was "involved in a violent, noisy, fast-moving and highly-charged situation", said Lady Justice Hallett.
Merseyside Police did not appeal against the landmark ruling that there was a negligent failure to properly care for Mr McCarthy after he was shocked.
The amount of compensation due for that failure has yet to be assessed.