Rapist caught after girl's 'secret' phone call to police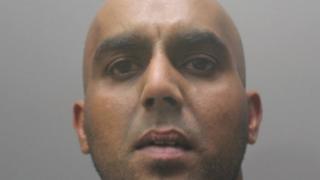 A man who travelled 100 miles before raping a teenage girl was caught after she made a "secret" phone call to police just before he left.
Rashid Ulhaqdad, 35, from Birmingham, hit the 17-year-old with an empty bottle before threatening to kill her, Liverpool Crown Court heard.
He then raped his victim three times at her sister's home on Merseyside but was arrested as he tried to leave.
Ulhaqdad of Mead Crescent, was jailed for 19 years.
This included a five-year extended sentence after the judge ruled he posed a significant risk of harm.
Hit with bottle
The 35-year-old first met the teenager a month earlier after he delivered food to her Birmingham home.
They kept in touch and he brought her cannabis but they did not have sex, the court heard.
When she told him she was visiting her sister, he took the train from Birmingham to Birkenhead drinking alcohol on the way.
At her sister's house, Ulhaqdad tried to kiss the 17-year-old but refused to leave when she asked him to.
After she put her young nephew to bed, he hit her with an empty Jack Daniels bottle.
Prosecuting, Ben Jones said that, when she fell to the floor, Ulhaqdad threatened to kill her and "she thought she was going to be killed".
He hit her several times with the bottle and grabbed her by the hair. He then pushed her upstairs and onto a bed before raping her twice.
'Predatory offender'
When she locked herself in the bathroom, he kicked the door in and raped her a third time, the court heard.
He also hit her across the head and banged her head against the radiator.
Ulhaqdad tried to rape her again in the bedroom and ignored her requests to stop, slapping her and calling her names.
Before leaving the injured girl, Ulhaqdad took her knickers as "a trophy".
Eventually, he began crying and apologising, Mr Jones said.
The girl secretly rang the police and, on hearing them arrive, she told Ulhaqdad to leave by the back door but then let in the officers, who ran in and caught him.
On sentencing, Judge Robert Warnock described the defendant, who had attacked other women previously, as a "predatory sex offender".
Ulhaqdad pleaded guilty to three rape offences, two sexual assaults, assault and breaching an order preventing him from arranging to meet women using his phone.
He was also ordered to sign the sex offenders register for life.