Mersey Bar lightship 'Planet' up for sale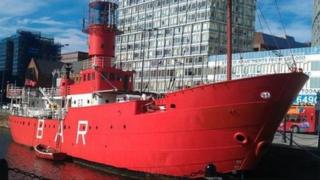 A lightship which lit the way for vessels entering and the leaving the River Mersey has been put up for sale.
The Mersey Bar lightship 'Planet' was towed from the river in September following a dispute between its owner and the Canal and River Trust.
The 133ft-long vessel was built in 1959 and provided a navigation aid to mariners approaching the entrance to the channel into the port until 1972.
It is listed for offers over £100,000.
Owner Alan Roberts bought the ship in 2009 and opened it as a cafeteria in 2011.
It was later moored alongside the Strand in Liverpool as a bar and tourist attraction before being towed on 21 September after the Canal and River Trust raised concerns about unpaid fees and health and safety.