Everton manager changes 'red' Christmas tree after fans' complaints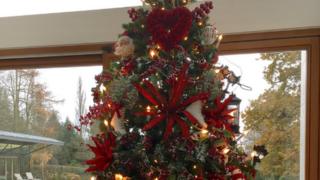 Everton manager Ronald Koeman has changed the colour of decorations on his Christmas tree after fans saw red.
The Dutchman, 53, was inundated with complaints that his baubles were in the red of arch-rivals Liverpool rather than the blue of the Toffeemen.
Koeman quickly changed them... and tried to avoid taking responsibility.
He explained in his weekly pre-match news conference: "A big mistake of my wife, I'm a Blue but I do like a glass of red wine."
Koeman had earlier posted a snap of his tree on Twitter.
Following complaints, Koeman's tree was redecorated with far more neutral cream and white baubles.
"Better colour?" the former Southampton boss tweeted.
But some Everton fans thought he should have gone even further... mocking up a full blue-and-white Everton-themed tree on social media.