Hillsborough: No evidence of South Yorkshire Police spin, IPCC says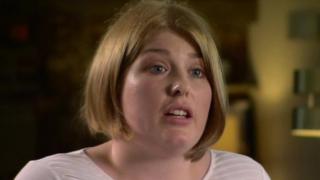 A police force accused of telling a press officer to "schmooze" the media during the Hillsborough inquests has no "case to answer", a watchdog has said.
Hayley Court claimed she was asked by South Yorkshire Police (SYP) to encourage the media to deflect blame from the force.
She said she was told to "get the media together and tell them what to write".
The Independent Police Complaints Commission (IPCC) said it found no evidence to support the claim.
Ninety-six football fans died as a result of the disaster at the Sheffield stadium on 15 April 1989, which unfolded during an FA Cup semi-final between Liverpool and Nottingham Forest.
A jury at the inquests concluded the fans had been unlawfully killed.
The jury also exonerated supporters and criticised SYP's planning for the match highlighting a catalogue of failures by senior officers on the day.
'Misunderstood directions'
Miss Court, who spent about four months working as SYP's Hillsborough communications specialist, claimed in May she felt trapped when she realised she had been given an "impossible job" that was "wholly unethical".
"It seemed to me to be more about how we could share the blame," she said.
The IPCC's deputy chairwoman Rachel Cerfontyne said investigators looked at four instances where a superintendent allegedly instructed Miss Court to "schmooze" the media.
They concluded the press officer was "encouraged to build a working relationship with journalists" but there was "no corroborating evidence" that it was a deliberate attempt to manipulate the media, she said.
She said the force had "no case to answer for misconduct or unsatisfactory performance" and that Miss Court "may have misunderstood" some directions.
She added the case had highlighted "a lack of clear unambiguous written guidance" on how SYP should speak to media during court proceedings.
Responding to the investigation, Miss Court said she was "disappointed" by the findings and "any suggestion that I simply misunderstood my instructions is manifestly wrong".
She said: "I am... acutely aware of the value of strong working relationships with the media. My instructions went beyond that.
"I stand by my claims and feel it was in the public interest to speak out."
---
Hillsborough: Police lawyers told to 'spread the blame' at inquests
Lawyers representing South Yorkshire Police were instructed to "spread the blame" away from the force at the Hillsborough inquests, an independent review has found.
Families of some victims complained to the IPCC alleging that SYP's former chief constable David Crompton told lawyers to "pour blame" on Liverpool fans at the hearings.
Reviewing the IPCC's decision not to investigate the families' complaint, Hugh Tomlinson QC criticised Mr Crompton for showing "poor judgement" when instructing lawyers.
And he said the families' allegation that SYP was trying to "spread the blame" was supported by the evidence provided.
However, he said questions asked by SYP's counsel did not suggest that they were part of a "deliberate or predetermined strategy" and the IPCC was correct in its decision.
---
South Yorkshire Police and Crime Commissioner Dr Alan Billings said SYP "needs to listen" to what the IPCC said about communications in the force.
He said: "One of the things they were very clear about is that not very good instructions - unclear and ambiguous - had been given to those who were supposed to do the reporting.
"The force needs to listen to what the IPCC are saying there - so if you find yourself in a situation like this, you must give very clear written unambiguous instructions to those people who are going to do the reporting on your behalf."