Royals attend Chester Cathedral memorial service for Duke of Westminster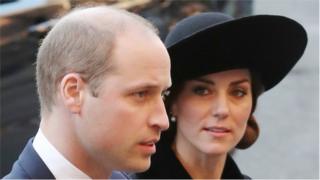 The Duke and Duchess of Cambridge have attended a memorial service to celebrate the life of the sixth Duke of Westminster.
Gerald Cavendish Grosvenor - said by Forbes magazine to be the UK's third richest person with a $10.8bn (£8.3bn) fortune - died aged 64 in August.
He owned land across the UK including 190 acres in Belgravia, central London.
Members of the Royal Family joined the duke's widow and children at the memorial service at Chester Cathedral.
His title has passed to his only son, Hugh Grosvenor.
The service was held in Cheshire since his ancestral home is Eaton Hall.
The duke died at the Royal Preston Hospital on 9 August after suddenly becoming ill on his Abbeystead Estate in Lancashire.