Burst water pipe hits 4,000 properties in Manchester city centre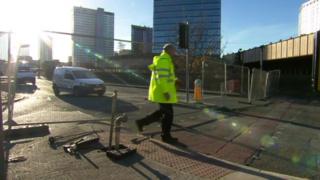 Thousands of homes and businesses in Manchester city centre have been left without water for several hours due to a burst pipe.
Many cafes, pubs, restaurants and coffee shops were forced to close because they could not serve customers or flush their toilets.
Cases were also suspended for a time at Manchester Crown Court.
United Utilities apologised to customers and said its engineers were working to restore supplies.
A spokesman said 4,000 properties in the city centre, Ancoats and parts of Salford were affected by the burst pipe on Victoria Street, which happened just before 08:00 GMT.
Some people reported they had no water at all, while others just had dripping taps or low pressure.
He added: "We are moving water from other parts of the local network to bypass the damaged section of pipe and get taps flowing again.
"We apologise to customers for such an inconvenient start to the working week. Thank you for bearing with us."
Robert Downes, development manager at the Federation of Small Businesses, revealed that cafes and pubs will get minimal compensation.
He said: "Unfortunately there's not a lot of recourse for businesses in these situations.
"Compensation from water suppliers is minimal and will in no way make up for loss of business and earnings if the business is forced to close.
"If the supply is not restored by the time the company says it will be, you are usually entitled to compensation of £20 for the first 24 hours and £10 for each further 24 hour period the supply remains un-restored."
A number of roads were closed around Manchester Victoria railway station.