'Unlawful' Taser ruling challenged by Merseyside Police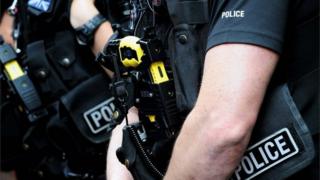 A police force has challenged a landmark court decision that ruled it was unlawful to Taser a man.
James McCarthy, 25, suffered a cardiac arrest. He had been struck twice in the chest outside a Liverpool hotel in September 2012 and is seeking more than £100,000 in damages.
Lawyers for Merseyside Police argued that use of a Taser in a "chaotic street incident" was lawful throughout.
Judges at the Civil Appeal Court reserved judgement to a later date.
In November last year, a judge sitting at Manchester County Court ruled the use of a Taser in this case amounted to "excessive force" and was an unlawful assault.
Although the initial use of the weapon was declared legitimate, the judge said the electrical charge kept firing for too long, at 11 seconds.
The judge also found officers were too slow in getting medical help during the incident, which left Mr McCarthy, of West Derby, lying motionless on the ground.
Mr McCarthy's solicitor said it was the first case in the UK where police have been held liable for negligence relating to care after using a Taser.
The victim, a joiner, claims the incident has left him prone to blackouts, anxiety and depression.
Mr McCarthy's case was brought before the court as lawyers for the Chief Constable of Merseyside urged three judges to block his claim.
Graham Wells, representing the force, argued that the original judge had "set the bar too high, requiring too much of a police officer involved in a violent, fast-moving situation in which he had been justly apprehensive of an assault by Mr McCarthy".
The force also disputes that the Tasering was the foreseeable cause of his heart seizure.
Sir Brian Leveson, Lady Justice Hallett and Mr Justice Burnett reserved their ruling and will give their decision at a later date.