Veteran's Légion d'Honneur sent to Liverpool Costco in error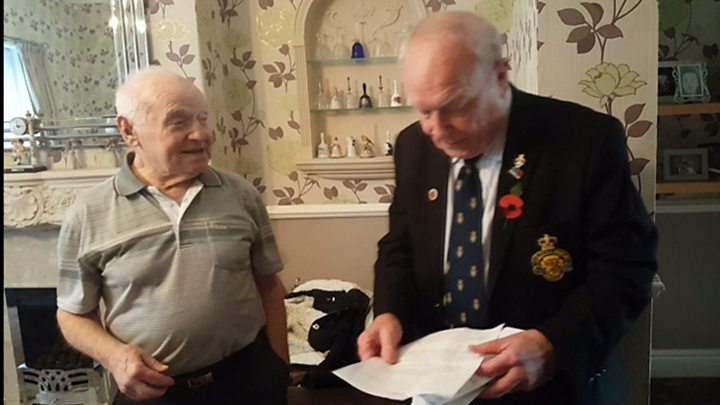 A Légion d'Honneur medal destined for a World War Two veteran was instead received by staff at a supermarket.
France's highest military honour was meant to be posted to former sailor Joseph Carter, who took part in the liberation of France.
But a postcode mix-up meant it was delivered to the Liverpool branch of Costco instead of Mr Carter, who also lives in the city.
Costco passed it to the Royal British Legion who found Mr Carter on Friday.
French apology
On being told about the attempts to find him, Mr Carter quipped: "I bet you thought I was dead, didn't you."
He said he thought "someone was joking" when he heard it was delivered to Costco.
He said: "I was really surprised because I had forgotten all about it."
Concerning his wartime role in the Royal Navy, he said: "I was only doing a job."
The French embassy, who posted the medal, has apologised for the error.
A spokesman said: "The embassy uses the addresses which are given by the veterans themselves when they send their application."
Prior to Mr Carter being found, Bill Sergeant, from the Royal British Legion, told BBC Radio Merseyside he wanted to hand over the medal in time for Remembrance Sunday.
He said it was found by Costco staff in their mail in October, who then passed it to him when he was selling Remembrance poppies at the store.
After trying "hard and failed miserably" to find Mr Carter, he appealed for help on BBC Radio Merseyside on Friday.
Hours later, Mr Carter was found.
"I'm over the moon," said Mr Sergeant. "I'm delighted that he and the medal have been united."
In 2014, French President François Hollande announced the honour would be awarded to all British veterans who took part in military operations in France between 1944 and 1945.
---
What is the Légion d'honneur?
The Légion d'honneur was established in 1802 by Napoleon Bonaparte
It is France's highest distinction and is awarded in recognition of both military and civilian achievement
It has been given to D-Day veterans from many different countries for several years as a way of thanking those who helped liberate the country from the Nazis
On the 70th anniversary of D-Day in 2014, the French President announced the honour would be given to all British veterans who took part in military operations in France between 1944 and 1945
Since then, more than 4,300 medals have been awarded to World War Two veterans in the UK
---