Merseyside PC cleared after knocking criminal off bike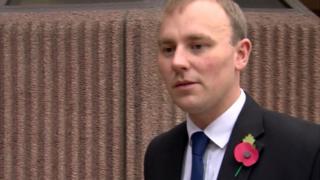 A policeman who knocked a criminal off a scrambler bike has been cleared of dangerous driving.
PC James Ellerton said he wanted to "protect life" after seeing Devere Ogungboro go "flying" through a Liverpool junction in September 2015.
Disqualified driver Ogungboro, who was serving a suspended jail sentence, was doing wheelies and weaving through traffic, Liverpool Crown Court heard.
Merseyside Police said the case showed "the real dilemma" faced by officers.
Assistant Chief Constable Ian Critchley said: "On the day, Constable Ellerton did what he thought was the right thing and he made a decision to protect members of the public."
Risk of danger
PC Ellerton, 29, was on duty in an unmarked police van as part of an armed response unit when he saw two scrambler bikes being driven dangerously.
He followed one ridden by Ogungboro, which was driven across the wrong side of the road in the early hours of 14 September 2015.
Ogungboro drove towards Toxteth before turning the bike back towards Liverpool city centre.
The policeman then drove onto the other side of the road to block him.
CCTV showed the bike slow down before appearing to try to go past the police van.
PC Ellerton turned the van into the scrambler, knocking Ogungboro off the bike, causing a severe injury to his knee.
The father-of-two told the jury he drove at the bike at low speed, adding: "If he was to carry on driving the way he was, I could only foresee one outcome and that would be an accident."
Police Fed 'anger'
The officer was later accused of not following police policies and charged with dangerous driving, which he denied.
Ian Hope, prosecuting, said police were not allowed to pursue motorcyclists due to the risks and only in exceptional circumstances, with the approval of a senior officer.
A spokeswoman for the Crown Prosecution Service (CPS) said it decided to charge PC Ellerton after an Independent Police Complaints Commission (IPCC) investigation but that it "respected" the jury's decision.
Peter Singleton, chairman of Merseyside Police Federation - which represents rank-and-file officers - said he was "angry and disappointed in the IPCC and the CPS", adding they "don't seem to take into account the reasons for an officer's actions".
Ogungboro will go on trial in February accused of dangerous driving concerning the same incident.
PC Ellerton's trial was also told that a month after the scrambler incident, Ogungboro led police on a 70mph chase in a van before crashing into a parked car.