Footballer Zoe Tynan: Inquest hears final words to sister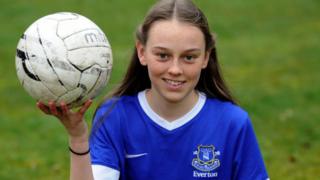 A teenage footballer who was hit by a train told her sister she loved her and "everything would be ok" an hour before she died, an inquest heard.
Zoe Tynan, 18, who played for England Women's Under-19s, spoke to her sister Beth before leaving their home in Mossley Hill, Liverpool.
She was seen on CCTV "calmly" climbing down onto the tracks at West Allerton station about 40 minutes later.
Coroner Anita Bhardwaj concluded Ms Tynan had taken her own life.
An inquest at Liverpool's Gerard Majella Courthouse heard Ms Tynan's sister had described her acting "out of character" before leaving home at about 15:40 BST on 30 August.
One of Ms Tynan's friends received a text message which was "suggestive of Zoe's intention to end her life" at 16:09, the court heard.
Five minutes later, she was hit by the train travelling from Birmingham New Street to Liverpool Lime Street.
Paramedics declared the AFC Fylde midfielder dead at the scene.
She had just got good A-level results and hoped to be a professional footballer.
The teenager's sister noted that her emotional outburst was unusual.
Ms Bhardwaj said: "These actions, together with her general demeanour and texts sent that day, clearly demonstrate Zoe intended to take her own life."
The coroner recorded that the teenager died of multiple injuries and toxicology tests found no traces of drugs or alcohol in her system.
Ms Tynan's family said after her death: "Zoe was the most loving and caring daughter and sister anyone could wish for.
"She was a vibrant, generous and fun-loving girl who always knew how to cheer anyone up, and was a loyal, straight-talking friend to many."
Ms Tynan spent six years at Everton before moving to Manchester City and then Fylde Ladies in the summer of 2015.