'Drugs baron' surrenders over pressure of being 'most wanted'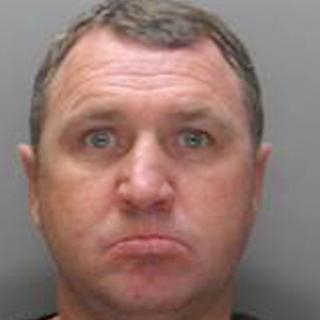 A suspected drugs baron has handed himself in after complaining the pressure of being on a list of the UK's most wanted men had "got too much".
Robert Gerrard, 53, from Liverpool, was named on a register of alleged criminal fugitives in February 2014.
Through his solicitor, he arranged to meet National Crime Agency (NCA) officers at Central Park Police Station in Manchester.
He was charged with conspiracy to import cocaine in a £60m drugs plot.
Gerrard appeared at Manchester Magistrates' Court on Wednesday afternoon and was remanded in custody.
He will appear at Manchester Crown Court next month.
Gerrard is the third 'Most Wanted' fugitive arrested in under a week after suspected paedophile Matthew Sammon and convicted rapist Mohammed Alam, 33, were both captured in Spain.
His photo featured in Operation Captura, a campaign to capture Britain's most wanted criminals with many of them on the run on the Costa Del Sol.
Gerrard was also highlighted in another campaign - Operation Return in the Netherlands.
He had been on the run for three years following a raid in October 2013 on a Rotterdam cafe used as a front for a global operations centre for international drug traffickers.
NCA officers believe Cafe Ketel provided a meeting place where criminals negotiated with drug cartel members.
They believe Gerrard used the cafe while plotting to import cocaine into the United Kingdom.
Greg McKenna, Regional Head of Investigations for the NCA, said: "We don't know at this stage how long Gerrard has been back in the UK for, but he told our officers that the pressure of being on the run had got too much for him."