Two bodies found after 'hoarders' house fire in Allerton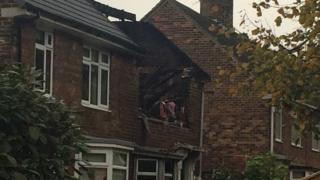 Two bodies have been found in a burned-out house in Liverpool.
Firefighters were called to the house in Mather Avenue, Allerton, on Sunday after a call from a passing motorist who had seen smoke.
Merseyside Fire and Rescue Service said an elderly couple with "significant" quantities of "hoarded material" were believed to be in the house.
The house was "stacked from ceiling to floor with little or no circulation space", he added.
The fire caused the roof to collapsed on to the first floor, which then collapsed on to the ground floor.
The building was being taken down to enable a joint investigation of the scene by police and fire officers.
A Merseyside Fire spokesman said during that process, the body of a dead man was found, and a short time later, the body of a woman was discovered nearby.