St John's Market Liverpool to reopen after £2.5m revamp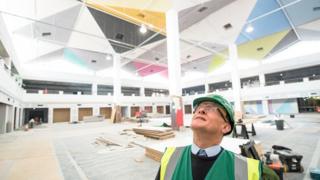 A Liverpool market which dates back almost 200 years is to reopen next month after a £2.5m revamp.
Work started at St John's Market in June which includes increasing the number of stalls from 90 to 120.
Liverpool City Council which bought back control of all city markets in a £1 deal has overseen the work.
Its opening on 14 November coincides with the completion of the authority's £3.5m upgrade to the surrounding public realm around Clayton Square.
St John's Market's last refurbishment in 1971 was opened by the Queen.
Councillor Malcolm Kennedy, cabinet member for regeneration, said the market had become "tired and dated" with "the feel of the 1970s".
He said now it has been "totally transformed" and "people will simply not recognise the place".