Seaforth docks fire: Warning over smoke and fumes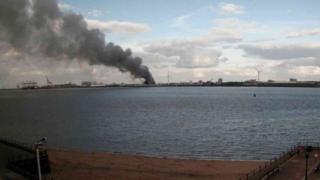 Firefighters are warning residents to expect more smoke and fumes from a huge blaze on the docks in Merseyside.
The fire at a metal and plastic recycling facility at Seaforth docks broke out on Friday evening.
The fire service is dismantling the remaining scrap pile with cranes and diggers so crews can get aerial appliances above the seat of the fire.
It said breaking the fire up in this way would result in a "significant but temporary increase" in fire and smoke.
The fire, now in its third day, sent huge plumes of smoke into the sky.
Brian Smedley, who lives the other side of the River Mersey in New Brighton, described the smell as "vile".
"I live about a mile away from the fire and it is very unpleasant.
"It is an acrid smell... and reminds me of when a fan heater caught fire in our house when I was a teenager."
Merseyside Fire and Rescue Service said: "The public should be aware there may be an increase in the smell of smoke and if so residents should stay inside and close windows and doors.
"Residents with pre-existing health conditions should keep medicine close."
The fire service said crews were likely to be at the scene for a considerable time.
The cause of the fire has not yet been established.