Fire crews continue to tackle blaze at Seaforth docks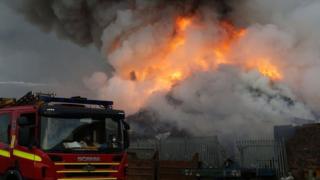 Firefighters continue to tackle a large fire on the docks in Merseyside which has continued throughout the day.
Merseyside Fire and Rescue Service said the blaze at a scrap metal recycling centre at Seaforth docks was reported at 23:20 BST on Friday.
It said the fire was still "significant and ongoing" and crews were likely to remain there for a "considerable time".
The smoke was not affecting residential areas or shipping, added the service.
Incident Manager Ben Ryder said there had been "excellent liaison" with partner organisations such as Port Police and the Environment Agency.
"Crews have worked hard in arduous conditions to surround and control the fire. Great consideration has been taken to reduce the risk to the environment in terms of water run-off and the smoke plume."
The fire service said ships have been able to load and unload goods on the docks "without disruption".
It said it has surrounded the fire but will continue to be there until the fire was fully extinguished which it expects to be a "considerable length of time".
The weather forecast indicates the plume direction should remain upwards for most of the day and was unlikely to affect people at this time, said Merseyside Fire and Rescue Service.
It said if residents are concerned about smoke they should stay indoors, keep their doors and windows closed.
People with asthma and other respiratory conditions should carry and use their medication as usual and try to remain out of the smoke, added the service.
The cause of the fire has not yet been established.