Special measures for 'mismanaged' Liverpool college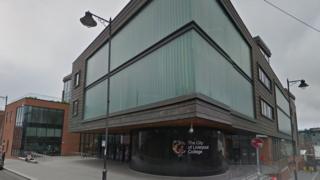 Special measures have been imposed on a college in Liverpool over concerns about performance and financial mismanagement.
The City of Liverpool College "failed to exercise adequate financial oversight" or to improve standards, a Department for Education letter said.
The college said it is disappointed at the decision.
Ofsted rated it outstanding in 2009, but found it to be inadequate in 2013, and requiring improvement since 2014.
After failing to rectify "long standing quality and more recent financial failings" and allegedly obstructing a government stocktake assessment, it has now been put into 'administered college' status.
'Anger and disillusionment'
This means the management must consult the government's Skills Funding Agency about financial decisions and changes to how it operates.
Skills and apprenticeships minister, Robert Halfon MP, said he is "extremely concerned" that "rather than focussing on securing improvement", the college has "sought to challenge" the intervention process and "spent college funds on engaging lawyers".
The college said the decision was disappointing after it had seen its budget cut by £8m, but it insisted that its has confidence in the current management team and the situation will not affect students' education.
A meeting of University and College Union (UCU) members passed a unanimous vote of no confidence against the college leadership on Friday.
UCU regional secretary, Martyn Moss, said the vote "highlights the level of anger and disillusionment" among staff, who "despite their best efforts" feel they have "been let down by poor leadership".