IPCC to assess Sir Norman Bettison's Hillsborough book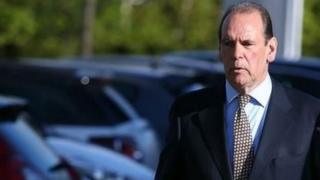 A book by a former chief inspector about his involvement in the 1989 Hillsborough disaster will be assessed by the police watchdog and prosecutors.
In Sir Norman Bettison's book, Hillsborough Untold, he claims he was "unfairly scapegoated" during his time as a South Yorkshire Police officer.
Publishers said they hoped the contents would help "add to the narrative".
The Independent Police Complaints Commission (IPCC) will "consider" any impact it has on its criminal inquiry.
The IPCC has requested a copy of the book, which will be released in November.
The contents will be assessed in consultation with the Crown Prosecution Service and there will be review into whether any action should be taken, IPCC deputy chairwoman Rachel Cerfontyne said.
Sir Norman witnessed the disaster as a spectator, but then became part of a police team that gathered evidence about what had happened, for use at a public inquiry.
At the Hillsborough inquests in 2015, he denied being part of a "black propaganda unit" set up to blame Liverpool fans and "concoct" a false version of events.
Ninety-six football fans died as a result of a crush at the Hillsborough stadium in Sheffield, during an FA Cup semi-final between Liverpool and Nottingham Forest on 15 April 1989.
New inquests into the deaths concluded the victims were unlawfully killed.
In 1998, Sir Norman was appointed chief constable of Merseyside.
Ms Cerfontyne also announced that she would commission an external review of her decision not to investigate a complaint from Hillsborough families about suspended South Yorkshire Police Chief Constable David Crompton.
She said: "This step is being taken following an assessment (not an investigation) of the complaint which alleged David Crompton directed his legal team to blame Liverpool supporters at the inquests."
Families of some victims alleged Mr Crompton told lawyers to "pour blame" on Liverpool fans at the hearings.
The IPCC said there was not enough evidence to proceed.
Biteback Publishing said the proceeds of Sir Norman's book would be donated to charity.