Dog saves sleeping man from Wirral e-cigarette house fire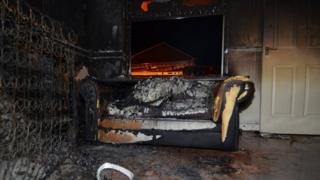 A man has been saved by his dog as a fire sparked by an e-cigarette tore through the house where he was asleep.
He was able to escape the blaze, at a house in Upton, Wirral, suffering from the effects of breathing in smoke before calling firefighters for help.
Merseyside Fire and Rescue Service said the e-cigarette had ignited while charging at the home in Norwich Drive.
A spokesman said the man had been lucky to survive, adding that e-cigarettes should never be left unattended.
Fierefighter Jo Stephens said: "Unfortunately he suffered slight smoke inhalation and the property was damaged by fire and smoke, but things could have been a lot worse.
"We would urge people never to leave their e-cigarette on charge while they are asleep or away from the house, and to always read the safety advice enclosed in the packaging."
The warning follows a nationwide alert regarding e-cigarettes issued by the Local Government Association (LGA).
The LGA, which represents the 49 fire and rescue authorities in England and Wales, wants e-cigarette manufacturers to display warnings on packaging.
It also discouraged people from using cheap or incompatible chargers for the devices.