IPCC will not investigate David Crompton complaint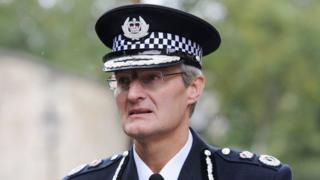 A complaint against the suspended South Yorkshire Police chief David Crompton over alleged instructions to his legal team at the Hillsborough inquests will not be investigated.
Families of some victims alleged Mr Crompton told lawyers to "pour blame" on Liverpool fans at the hearings.
But the Independent Police Complaints Commission (IPCC) said there was not enough evidence to proceed.
The inquests concluded 96 Liverpool fans were unlawfully killed.
The IPCC, which acts as the national police watchdog, said an investigation would be "significantly hampered" because a legal principle of confidentiality would prevent it from reviewing communications between Mr Crompton and his legal team.
South Yorkshire Police (SYP) declined a request from the IPCC to waive legal professional privilege, which makes communication between lawyers and their clients confidential.
"Insufficient evidence"
In 2012, Mr Crompton apologised to the families of the 96 victims and Liverpool supporters at the 1989 FA Cup semi-final at Hillsborough after an independent panel found police "sought to deflect responsibility" on to the fans.
But the families' claimed that, despite the public apology, he instructed his legal team at the inquests to blame Liverpool fans in an effort to deflect attention from his force.
Mr Crompton was suspended in April, following the conclusion of the inquests, over "an erosion of trust".
The commission's deputy chair, Rachel Cerfontyne, said the "approach taken by some legal teams" at the inquests "clearly caused distress among those affected by the disaster".
But she said the evidence it assessed "doesn't indicate that a criminal or misconduct offence has occurred".
"This, combined with the fact we cannot review any legal instructions from Mr Crompton to his legal team, has led me to conclude that an IPCC investigation could not provide any meaningful response to the complaint," she said.
Barristers for SYP asked questions about fan behaviour but "these were infrequent" and there was "insufficient evidence" to suggest they were part of a "deliberate and concerted attempt by SYP to blame Liverpool fans", the IPCC found.
Mr Crompton is taking legal action over the decision to ask him to resign.
"Deeply regrettable"
Charlotte Hennessy, who lost her father Jimmy at the disaster when she was six years old, said she was "absolutely disgusted and appalled" at the decision.
"This is a police force that protects their own and they're not sorry... the very fact that they are declining to provide information into an investigation yet again just proves that," she said.
Pete Weatherby QC, who represented 22 families at the inquests, said it was "a deeply regrettable decision".
"SYP tried to avoid responsibility, directly contrary to Mr Crompton's public apology and acceptance of responsibility in 2012.
"So long as senior public servants are allowed to act with impunity there will be little trust in the police, the IPCC or public authorities generally," he said.
Elkan Abrahamson, who represented 20 families for Broudie Jackson Canter, said the decision was "predictable".
Dr Alan Billings, South Yorkshire Police and Crime Commissioner, said: "I referred this complaint to the IPCC for their assessment. The IPCC has made their assessment that no investigation should occur."