Liverpool City Council takes back control of markets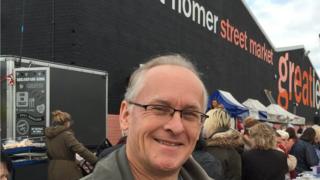 Liverpool's markets are once again publicly owned after the city council bought them from its current operator.
Liverpool City Council has taken over all day-to-day operations with immediate effect after buying the markets for a nominal £1 from Geraud, which has operated them since 2003.
All staff will continue to be employed under a new company, Liverpool Markets Ltd.
The council said the move is part of its plans to invest in the markets.
Geraud Markets UK operated the markets with the council under a joint-venture agreement which had been due to run until next year.
Malcolm Kennedy, cabinet member for regeneration, said: ''This deal is a watershed moment in the history of Liverpool's markets and ensures they will once again become a major asset in our flourishing retail sector.
''As a city council we are investing millions in upgrading the facilities and the time had come to take back full control of the operations.
''As a result of this new deal we will be able to host, manage, promote and deliver the markets in-house and ensure a standard of quality befitting the new facilities that we are investing in.
''This new approach will give current tenants, future traders and customers a single point of contact that will enable us to improve the market offer right across the board from farmer's markets, international markets and the Christmas markets."
In a statement, Geraud said: "Geraud confirms that the sale concluded today. We understand that the terms of the agreement are confidential."