Aintree hospital A&E downgraded over safety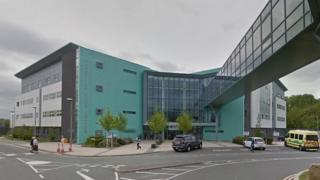 An NHS hospital has been told it must improve its emergency care following an inspection by the health watchdog.
The Care Quality Commission (CQC) found poor staffing levels at Liverpool's Aintree University Hospital during a visit in April.
Processes to escalate the care of deteriorating patients "were not always followed", said Prof Sir Mike Richards, chief inspector of hospitals.
The NHS trust, rated as good overall, said it planned to employ new nurses.
The hospital, which employs about 4,000 staff, serves a population of about 330,000 people living in some of the most deprived areas in England.
Poor compliance
Emergency services were downgraded from a "good" rating following a 2014 inspection to "requires improvement".
Prof Richards said the re-inspection resulted from "concerns raised with us about their quality".
"We also saw that nurse staffing levels were lower than the safe recommended amount.
"We do acknowledge that the trust was taking action to address the nurse vacancy rate but it remained evident during our visit that the wards were not always staffed as they should be."
Dr Steve Evans, the hospital's medical director, said: "We are aware of the pressures on our nursing staff who look after patients admitted via A&E and, at the time of the inspection, we had some gaps in nursing cover arising from staff sickness and vacancies."
Inspectors also identified incorrect use of a national Modified Early Warning Score tool which monitors patients' conditions. They found it "was not being used correctly... and caused concern that this may not appropriately identify patients who were deteriorating".
Prof Richards said the CQC was monitoring actions implemented to improve the issue.
Dr Evans said the hospital had also introduced a "new approach" to training after the CQC said it must "improve staff compliance with mandatory training in a timely way".