Bobby Colleran: Parents release road safety book after death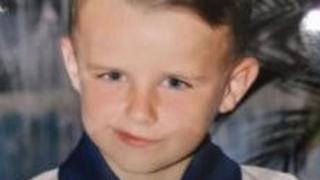 The parents of a six-year-old boy who died after being hit by a van have launched a children's book about road safety.
Bobby Colleran died in October 2014 after being struck near his school in West Derby, Liverpool.
Thousands of people have since signed a petition calling for speed bumps to be placed in Leyfield Road.
Bobby's parents have launched SuperBob, which tells the story of a superhero who saves children from danger.
The book, written by author Jude Lennon with the help of Bobby's family, was unveiled at Blackmoor Park Infant School, where Bobby was a pupil.
'Proud moment'
The main character is named after Bobby, and all the others are named after his brothers and cousins.
His mother Joanne Colleran said: "We've worked so hard on the book and it's a proud moment for us.
"My boys helped Jude write it and it's funny. There's lots of fun stuff in it and the kids just absolutely love it. And they're learning important things from it."
Plans are in place for the book to be available in schools across Liverpool.