Murder charge following death of Frenchman Christophe Borgye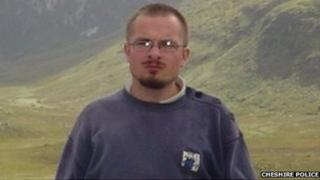 A man has been charged with murder in connection to remains found at a house in Ellesmere Port in 2013.
The remains of Christophe Borgye, 36, from France, were found at a house in in Hylton Court four years after he was reported missing.
Manuel Wagner, a 28-year-old German national who now resides in Toxteth, Liverpool, will appear before Chester Magistrates' Court later.
Two men were jailed for life for the murder of Mr Borgye in 2014.
Mr Borgye, originally from Ronchen in France, moved to the UK in 2007. He died from a series of hammer blows to his head, a post mortem revealed.