Merseyside Police plan for new £45m Liverpool HQ approved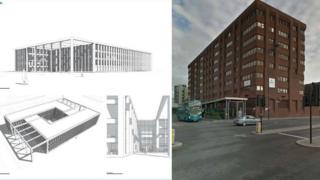 Merseyside's police commissioner has agreed to build a new £45m Liverpool base for the force by 2020.
Jane Kennedy said a new building in Scotland Road would be around £800,000 cheaper than refurbishing the existing 1970s' Canning Place site.
The force hopes to recoup £9m from the sale of the current HQ and Allerton Police Station in south Liverpool.
It is the most "efficient and economical" option because it will be cheaper to maintain, Ms Kennedy said.
Canning Place is "old, inefficient" and "no longer fit for purpose", Ms Kennedy said, adding that it is "common sense" to build new premises "fit for modern ways of working".
She said it will save the force "more than £15.5m" over the next 40 years in comparison to a major refurbishment and be ready "six months faster", hopefully opening its doors in May 2020.
She added: "Sadly, I have no option but to act. Canning Place has been a loyal servant to the force over the past 40 years and there is no doubt it boasts a good location, but it is now of an age where expensive repairs and maintenance work are urgent and essential."
She said there is "already considerable commercial interest" in the Canning Place HQ and selling it will "open up that part of the city for further regeneration".
The force hopes to obtain planning permission for the new site by May 2017 and start work in January 2018. The predominantly brownfield site, largely owned by Liverpool City Council, is in the Everton area of the city.