Liverpool VC hero Sgt David Jones honoured with memorial stone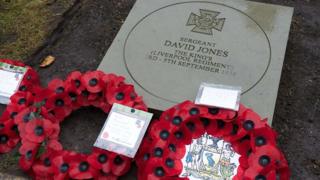 A memorial stone has been unveiled in honour of a Liverpool soldier who was awarded the Victoria Cross during World War One for "most conspicuous bravery".
Sgt David Jones was awarded the medal for actions at Guillemont in the Battle of the Somme on 3 September 1916.
He had held his post for two days and nights with no food or water while his platoon came under heavy gun fire.
He chose to return to action rather than return to England to receive the VC and was killed on 7 October.
His widow was presented with his medal at Buckingham Palace by King George V in March 1917.
The citation for his award read: "For most conspicuous bravery, devotion to duty, and ability displayed in the handling of his platoon.
"The platoon to which he belonged was ordered to a forward position, and during the advance came under heavy machine gun fire, the officer being killed and the platoon suffering heavy losses.
"Sergeant Jones led forward the remainder, occupied the position, and held it for two days and two nights without food or water, until relieved.
"On the second day he drove back three counter-attacks, inflicting heavy losses. His coolness was most praiseworthy."
Sgt Jones was born in Hutchinson Street in 1891 and attended Heyworth Street School.
He later worked as an apprentice coachbuilder with J Blake and Co Motor Company.
He is buried at Bancourt British Cemetery in France and his VC is housed at the Museum of Liverpool.
The memorial stone was unveiled by the Lord Mayor of Liverpool Councillor Roz Gladden at Whitley Gardens in Shaw Street next to the memorial to the 8th The King's Regiment.