Wirral teen celebrates nine A* grades and has University Challenge hopes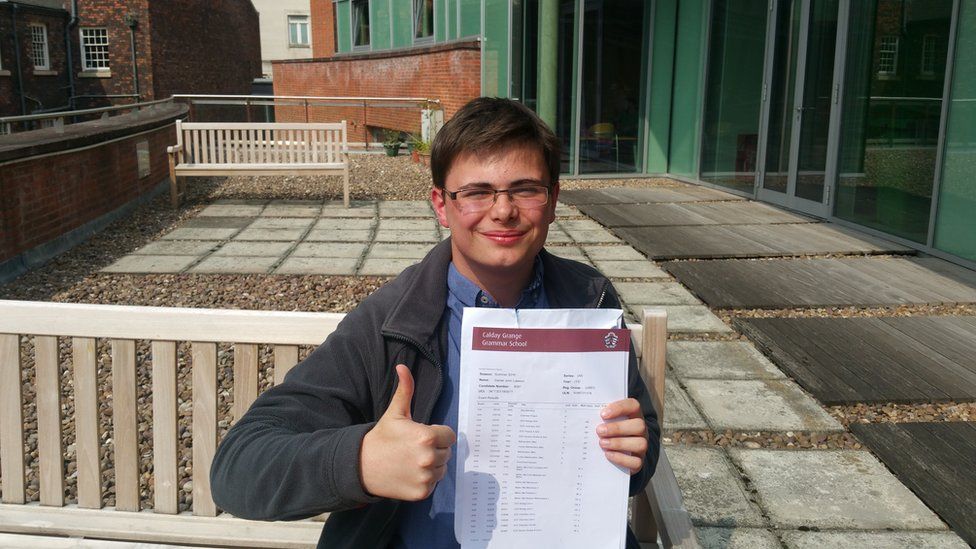 A teenager from Wirral is celebrating breaking his school's record by achieving nine A* grades at A-level.
Daniel Lawson, 18, from West Kirby achieved A* grades in Maths, Further Maths, Biology, Chemistry, Physics and an Extended Project Qualification.
He added those to A*'s he achieved last year in Computing and Business Studies.
The Calday Grange Grammar School pupil will study medicine at the University of Cambridge, but said qualifications were "not the be all and end all".
On opening the results he said he felt initially "bemused" followed by "happiness" and then "disbelief" - "I was laughing to myself".
"I was incredibly nervous... I thought I was borderline to get my offer of two A*s and an A... I would have been happy just to meet my offer," he said.
After being accepted by Magdalene College he said "everything else was just icing on the cake".
"My family are very proud... my dad said it was ridiculous but was happier than I was", he said.
Daniel, who hopes to one day appear on University Challenge, said he thinks A-levels are "important to get you to certain places" but the point is "to do what you enjoy" and university may not the best option for everyone.
"I have lots of friends doing apprenticeships, going to college or straight into jobs", he said.
For Daniel, his achievement was primarily down to how much the subjects interested him.
"I enjoyed all my subjects and that way the qualification is like a bonus.
"But that's not to say it's not a lot of hard work. Practice is the thing. It's more down to hard work than to natural intelligence".
Related Internet Links
The BBC is not responsible for the content of external sites.