Liverpool City Council proposes limiting takeaway numbers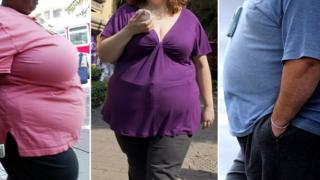 A plan to limit the number of fast food takeaways in Liverpool has been proposed in a bid to tackle obesity.
Liverpool City Council plans to prevent too many takeaways from opening in the same area from 2018 over 15 years.
In Liverpool, 64.2% of adults are overweight or obese compared to the national average of 64.6%.
The council said takeaway hotspots include the city centre, adding the proposal would stop areas being "taken over by fast food".
'Healthier city'
It is part of a draft local plan, which will be subject to consultation in September, and also includes building 29,600 homes, earmarking brown field sites for development and protecting parks.
Councillor Malcolm Kennedy said the plan is to achieve a "healthier and more prosperous city''.
Public Health England (PHE) data shows children carrying excess weight in Liverpool is higher than the national average and the worst rate in Merseyside.
Obesity remains a growing problem in the region and across the country, according to NHS Digital.
Mr Kennedy said: "There are areas where a street gets almost taken over simply by takeaways that the available fresh foodstores like the butchers are basically taken over by fast food."
A Cambridge University study found people with increased exposure to fast food outlets near the home and workplace had higher consumption of takeaway food, greater body mass index, and greater odds of obesity.
A high number of fast food takeaways in Liverpool are also found in Anfield and Walton - near to the city's football grounds, the council said.
A PHE spokesperson said it is a "good thing" that councils are taking these measures, adding "planning is a key component" of any approach to tackling obesity, particularly in children.