Chester walls get contactless pay terminals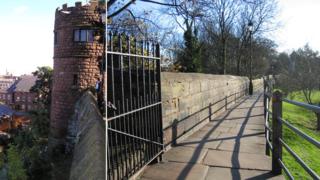 Contactless card payment technology is being installed in Chester's medieval walls to encourage people to contribute to their upkeep.
Visitors will be asked to make a donation by using bank cards or smart phones at the terminals.
They are being installed at three locations of the walls; Amphitheatre, King Charles Tower and Newgate Tower.
Donations are voluntary and the walls are still a free attraction, Cheshire West and Chester Council said.
It is hoped the scheme - which encourages people to make a £2 donation - will pay for the upkeep of the Grade I-listed sandstone walls, which currently cost the council £600,000 a year.
It will be trialled for three months.
---
Chester's Walls
Chester's first fortifications date back to Roman times - about 74 to 75 AD.
Nothing is known about the walls' condition between the end of the Roman occupation in the late Fourth Century and the refounding of Chester as an Anglo-Saxon burgh in 907
The walls were extended when a castle was built following the Norman Conquest in the 11th Century
Their last military use was during the English Civil war when the city was under siege by Oliver Cromwell's forces
Source: Chester: A History - Simon Ward.
---
Councillor Louise Gittins, cabinet member for communities and wellbeing, said: "We know there is an appetite to make a donation as our visitors have asked in the past. However, the emphasis is for a donation only if they wish to do so.
"Asking visitors to donate is nothing new and increasingly commonplace amongst national museums and attractions."