Victoria Cross hero Gabriel Coury to be commemorated in Liverpool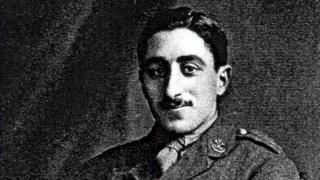 A memorial stone will mark the bravery of a World War One soldier who saved his commanding officer during the Battle of the Somme.
Liverpool-born 2nd Lieutenant Gabriel Coury won the Victoria Cross after participating in a British attack on the German-held village of Guillemont.
His citation said he rescued his commanding officer on the battlefield "under intense fire" on 8 August 1916.
A century later, the stone will be unveiled at Sefton Park on Monday.
Born in 1896, Coury attended Stonyhurst College in Lancashire before joining the Army at the start of World War One.
One of his corporals described him as "the bravest officer I served under" and his citation credited him for helping "in rallying the attacking troops when they were shaken and in leading them forward".
The lieutenant later transferred to the Royal Flying Corps and, following two crashes, he ended the war in the administration branch of the Royal Air Force.
He took work in the cotton industry until the outbreak of World War Two, during which he served with an anti-aircraft unit and was promoted to the rank of Major.
He later opened a fish and chip shop before returning to work at the Liverpool Cotton Exchange.
He died in 1956 and was buried with full military honours at St Peter and Paul's Church in Crosby.
The Lord Mayor of Liverpool, Councillor Roz Gladden, said: "Gabriel Coury was a brave and fearless soldier and it is important that his contribution to World War One is remembered."
The memorial stone is part of a government scheme that will see every World War One Victoria Cross recipient remembered.
It will be the second memorial stone in Liverpool after Ernest Alexander was honoured in 2014.
Another six stones will be installed in the city by 2018, a council spokesman said.