Bidston Observatory: Heritage fears for Wirral landmark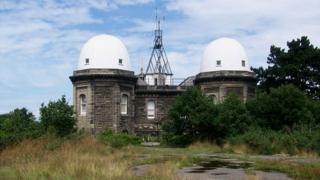 Campaigners in Merseyside fear a piece of history could be lost after a former scientific observatory was put up for sale.
Built in 1866, Bidston Observatory in Wirral was once at the centre of research into tide times and astronomy.
It is being auctioned with space for residential development and a guide price of £550,000.
The Bidston Observatory Preservation Trust wants to see the building remain as a heritage centre.
'Another Bletchley Park'
Tide times used to plan the D-Day landings were once predicted at the observatory.
The trust's vice chairman, Valerie Doodson, said: "It's another Bletchley Park. It was hugely important for our war effort.
"It's one of the most iconic buildings in Wirral and it should be saved."
Auction house John Pye Property said planning restrictions would protect the building's heritage.
Richard Reed, head of property, said while the observatory had the potential to be "transformed into a dream project", its distinctive domed roof would remain untouched.
He added: "By giving buyers the chance to develop the building within the planning permissions, it prevents it from falling into disrepair."
The company said there was also potential to build homes in the car parking area.
Dr Stephen Pickles, who also works with the trust, said the group would like to buy the property but needed more time to raise funds.
"We've never been given the time or support we need," he said.