Chester's Roman amphitheatre excavation hopes dashed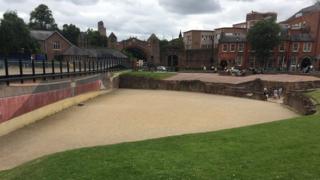 Campaigners' hopes of excavating the whole of Chester's Roman amphitheatre have been dashed by the city's council.
Cheshire West and Chester Council last week said officials could complete a deal which will see the refurbishment of Dee House, an 18th Century building which sits on top of much of the site.
Councillor Louise Gittins said the site should remain buried so as to be "undisturbed for future generations".
But the decision has been labelled as "short-sighted" by opponents.
Only 80% of the 2,000-year-old site was uncovered in the 1960s, with the remainder lying unexcavated behind a brick wall.
Most of the unexcavated portion is covered by Dee House, which has been empty since 1993 and is said to be in a "significant state of disrepair".
Ms Gittins told councillors: "There is a strong preference now for preserving archaeological remains undisturbed for future generations."
"Further excavation is unlikely to add significantly to the information we have at the present time," she added, before noting that Dee House "is a building of national importance in its own right".
The Labour-led local authority said it had been informed that heritage body Historic England "would not countenance" granting consent for the amphitheatre's remains to be dug up.
Opposition Conservative councillor Jill Houlbrook said: "We have a responsibility to challenge the short-sighted opinions of (Historic England).
"We don't want another building, another hotel - we want the amphitheatre."
The plans for Dee House's future are due to be revealed next month.