Mother's '15 years of hell' over son's shooting death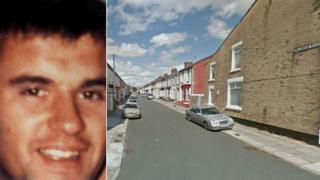 A mother whose son was shot and killed by a gang of masked men has said she has been through "15 years of hell".
Richard Clayton, 30, was chased by his attackers after he left a gym in Belgrave Road on the evening of 25 July 2001.
He ran to a house in a bid to escape but collapsed and died.
His mother Linda Clayton said: "I would ask those responsible, or their family and friends who may have information, to search their consciences.
"How would you feel if this happened to your family? How would you feel if you were never given any sense of closure over the death of your son?
"We have been through 15 years of hell, but it's not too late to do the right thing."
Merseyside Police said a green Ford Mondeo used by his killers was later set alight in Buckland Street, near to the footbridge at St Michael's railway station.
Det Insp Mike Leyland said: "People's loyalties can also change over time.
"People watch their own children growing up and they may feel differently about what has happened."