Angela Eagle MP cancels surgeries after death threat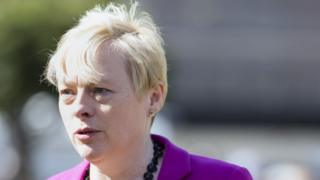 Labour MP Angela Eagle has cancelled constituency surgeries after discussions with police in the wake of a death threat and attack on her office.
A spokesman for the MP said she will meet constituents by appointment.
Merseyside Police said its advice was given at the MP's request.
Earlier this week a man was bailed in Scotland after being arrested on suspicion of making threats to kill in an email to the MP.
Det Ch Insp Kenwright said: "The decision to cancel surgeries is not a police matter and would lie entirely with them."
Ms Eagle's decision comes the day after the suspension of Wallasey Constituency Labour Party over allegations of bullying and organised demonstrations in the area.
Friday's open surgery is cancelled but Ms Eagle, who stepped down from the Labour leadership contest on Tuesday, will continue to attend constituency events, a spokesman said.
The spokesman also said the discussions with police followed the death of Jo Cox MP.
Last week a window was smashed at Ms Eagle's constituency office building after she announced her intention to run against Labour leader Mr Jeremy Corbyn.