New Brighton Lifeboat station shut in training dispute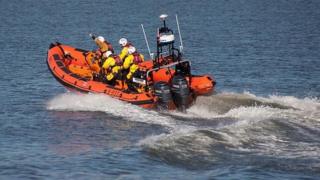 A lifeboat station is to close for several weeks due to a row between the RNLI and volunteer crew members.
New Brighton station, in Wallasey, on the Wirral, has been put out of action after 12 crew members were stood down in a dispute over training.
The RNLI said the lifeboat and hovercraft volunteers had "refused to commit" to a required programme.
West Kirby and Hoylake stations will provide their usual cover, said the RNLI.
It added services had been suspended as the station will not be able to operate safely in the short term,
The RNLI said 16 members had signed the RNLI's Volunteer Code of Conduct adding, "We will be supporting them and working with them to make sure the lifeboat returns to service as soon as possible."
RNLI claimed the station was affected by a dispute over several issues: a new training programme; the station's management; an investigation into various issues with the lifeboat crew, attempts to address deficiencies at the lifeboat station and breaches of the RNLI's Volunteer Code of Conduct.
Lee Firman, Divisional Operations Manager said: "We explored a number of options for New Brighton before taking this step. Closing a lifeboat station, even temporarily, is not a decision to be taken lightly but we are confident that this is the right way forward."
One of the 12 volunteers, Helmsman Sean Sales said he was "shocked and deeply upset" to be told at 12:30 BST he was being stood down.
Mr Sales, who has been a volunteer for four years, added: "I am angry that they are closing the station at the time when we are going to be most busy. I don't really understand the tactics."
He added: "I passed out as a helmsman in February this year and it is no mean feat. I takes a lot of time and dedication to become a helmsman."
He said had refused to sign the volunteer code of conduct as he believed he had signed all of the relevant papers when he was first accepted onto the crew four years ago.