'Britain's loneliest dog' Freya finds new home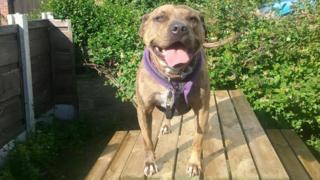 "Britain's loneliest dog" has finally found a new home after spending almost all of her life in a rescue centre.
Freya has been cared for at Freshfields Animal Rescue near Liverpool since she was found as a six-week-old puppy.
The Staffordshire bull terrier, who has epilepsy, remained unclaimed but now rescue dog owners Ray and Jackie Collins, from Cheadle Hulme, Greater Manchester, have offered her a home.
They are due to sign the six-year-old's adoption papers on Tuesday.
The rescue centre has been trying to find a good home for Freya ever since she was found, earning her the tag "Britain's loneliest dog".
An appeal even caught the eye of dog-loving film director Michael Bay, who has given her a role in the next Transformers science fiction movie.
Bay's office said he was "delighted to hear that Freya has a loving home".
Collette Piert, kennels manager at Freshfields Animal Rescue, said: "It was obvious from the beginning that Ray and Jackie had something special with Freya.
"They immediately understood what she needed, and have worked closely with us over the past few weeks to put in place the support and guidance we provided.
"Finally Freya will be part of a family who can provide a stable home where she can enjoy her life to the full. We couldn't be happier for her."