Queen Elizabeth: Cunard liner returns for celebrations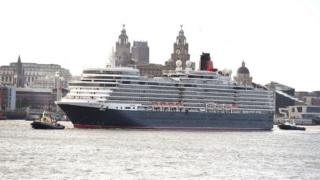 The Queen Elizabeth liner sailed into Liverpool to celebrate the centenary of the iconic Cunard Building.
It was last in port a year ago with the Queen Mary and Queen Victoria to celebrate Cunard's 175th anniversary.
The ship arrived in time for a Service of Celebration at the Church of Our Lady and St Nicholas at 11:00 BST.
It was the first time a Cunard ship arrived in port skippered by a woman, with the line's first female captain Inger Klein Olsen, 43, at the helm.
Other elements of the celebration included two concerts plus a finale firework display, before the ship was due to depart at 22:22.
The Cunard building is one of the Three Graces on Liverpool's Pier Head waterfront, which is a Unesco World Heritage site.
---
One hundred years of the Cunard Building Liverpool
Built on the former George's Dock, the Cunard building was the third of the Three Graces to be built in Liverpool - following the Port of Liverpool Building in 1907 and the Liver Building in 1911
It was based on the Farnese Palace in Rome, the family home of Pope Paul III, and was built from 180,000 cubic ft (54,864m) of Portland Stone with 50,000 cubic ft (15,240m) of Italian marble inside
The decisions to build the first Queen Elizabeth, first Queen Mary and the QE2 were taken in its boardrooms
It was sold to Prudential for £2.75m in 1969, in what was Liverpool's biggest single property deal
It was later sold to Wirral Council, acting for the Merseyside Pension Fund for public sector workers, for £17.7m in 2001
In 2013 Liverpool City Council acquired the building, spending £5m to relocate 1,000 staff
---