Plans approved for specialist cancer hospital in Liverpool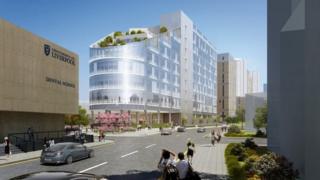 Plans to build a new "world class" specialist cancer hospital in Liverpool city centre have been approved.
The Clatterbridge Cancer Centre NHS Foundation Trust has been granted permission to build the facility next to the Royal Liverpool Hospital.
The new 110-bed hospital is part of a £157m project to transform cancer care across Merseyside and Cheshire.
The plans were given the go-ahead at a meeting of Liverpool City Council's planning committee earlier.
Construction is expected to start later this year, with the hospital opening by the end of 2019.
Funded by the NHS, it will provide services including urgent cancer care, chemotherapy, radiotherapy, both inpatient and outpatient care, support and rehabilitation.
The hospital will also carry out research and clinical trials for new treatments.
The Clatterbridge Cancer Centre's existing hospitals in Wirral and Aintree will continue, along with its chemotherapy and outpatient services in other hospitals across the region including Southport, Chester, Halton, St Helens and Liverpool.
Andrew Cannell, chief executive of the Clatterbridge Cancer Centre, described the plans as "a landmark moment for healthcare in Merseyside and Cheshire".
"Our region has one of the highest cancer rates in the country so people here deserve the very best in care," he said.
"While we currently provide excellent services, the new hospital will result in even more outstanding care and leading research with vast clinical benefits for patients."
Councillor Malcolm Kennedy, cabinet member for regeneration, said the centre would "lead to major improvements in the delivery of services for cancer patients from across the region".
He added: "The hospital will be a world-class facility that the whole city can be tremendously proud of."