Eight arrested over cash machine thefts across UK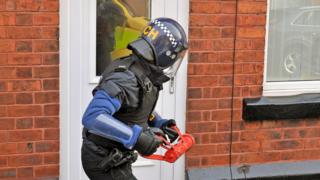 Eight men have been arrested in an investigation into a series of high-value cash machine thefts in the UK.
The men, aged between 27 and 41, were held on suspicion of carrying out raids from Wiltshire in the south to Aberdeenshire in the north.
Explosives were used to sabotage some ATMS, while others were dragged away using stolen vehicles.
Six of the men are from Merseyside, one from Birmingham and one from Leigh, Greater Manchester.
They will be interviewed by detectives from Titan, the North West's regional organised crime unit.
Three of the suspects were held during dawn raids in Huyton, Prescot and St Helens, all on Merseyside, while five were arrested in prison.
The operation was the culmination of a seven-month investigation assisted by Police Scotland, which has been investigating nine ATM thefts since late 2014.
Det Ch Supt Chris Green, head of Titan, said: "We have developed a really strong working relationship with our colleagues in Police Scotland and it is through this that we spotted a common methodology being used to access the cash in ATM attacks on both sides of the border.
"A criminal gang was travelling significant distances to the south of England as well as to north east Scotland to commit these crimes, causing a huge amount of damage and risk to the public in the process."
Where the thefts took place
21 February 2015 - Sonning Common, Reading
28 March 2015 - Alsager, Cheshire
2 May 2015 - Hucclecote, Gloucester
9 May 2015 - Woodstock, Oxfordshire
23 May 2015 - Swindon, Wiltshire
20 June 2015 - Newtonhill, Aberdeenshire
3 August 2015 - Kingswells, Aberdeenshire
4 October 2015 - Huyton, Merseyside
5 January 2016 - Perth, Scotland