Police 'sorry' for using Hillsborough picture on poster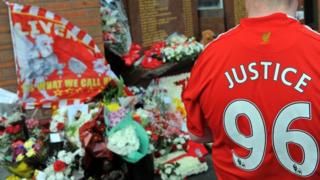 Greater Manchester Police (GMP) have apologised for using a "distressing" photo of Liverpool fans at Hillsborough on a poster.
The image from the 1989 disaster which claimed the lives of 96 football fans was sent to police staff on Wednesday.
Assistant Chief Constable Robert Potts said he was "deeply sorry" for the use of the "inappropriate" image.
The poster was advertising for 'Super Recognisers' who are skilled at picking out a face in a crowd.
ACC Potts said: "The poster, which was only ever circulated internally within the force, was immediately recalled and the offending image was removed within 90 minutes of its initial circulation.
'Wholly inappropriate'
"This poster contained an image of the Hillsborough disaster in progress, a distressing image which was completely inappropriate for such use.
"We acted swiftly to remove the offending image and limit the distress caused, however, I recognise that the use of this image was obviously inappropriate and I am deeply sorry for the upset and offence that this has caused."
Louise Brookes, sister of Andrew Brookes, 26, who died in the Hillsborough disaster, said she had been told the photograph showed one of the pens where the fatal crush occurred.
After receiving letter of apology from GMP, she rang ACC Potts to request more information about the image and questioned why it was used.
"Why on Earth did they use a photograph of people dying and fighting for their lives?" she said.
Greater Manchester Police and crime commissioner Tony Lloyd said: "The use of this image was wholly inappropriate and should never have happened.
"Senior GMP officers have rightly acted quickly to remove this poster from circulation and have apologised.
"I have also asked GMP to make contact with the families of the Hillsborough victims to apologise to them directly for any further distress this has caused them."