Erin Cross: Race to fund pioneering treatment for cancer girl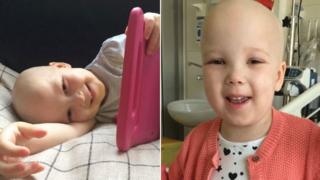 A family is trying to raise £100,000 to fund pioneering treatment for their five-year-old daughter who has acute lymphoblastic leukaemia.
A £100,000 appeal has been started for Erin Cross, from Chester, to undergo gene editing therapy in America.
The family has been told she needs the treatment within a two-month window before she deteriorates. If successful it would make her eligible for a life-saving bone-marrow transplant.
The family has so far raised £87,000.
Relapse 'devastation'
Erin's parents had hoped she had been cured by chemotherapy which ended 11-months ago, but she had a relapse in March, they said.
Her mother, Sarah Cross, said the family was left "devastated".
They are now pinning their hopes on CAR (Chimaeric Antigen Receptor) T-Cell therapy in the USA
It involves taking specialised immune cells from patients with certain blood cancers, and re-engineering the cells in the lab to attack and kill cancer cells when injected back into the patient's body.
CAR T-Cell therapy is currently being researched at Great Ormond Street Hospital in London but only one child a month can be treated.
The family hope, if Erin has the treatment, it will put her into remission, making her eligible for a bone marrow transplant.
The social media campaign has been backed by celebrities including AP McCoy and Lord Sugar.
Mrs Cross, said: "Erin met AP McCoy when he paid a visit to the children at Alder Hey Hospital, Liverpool with other Grand National jockeys - she made a papier-mâché version of him to celebrate his knighthood."