Alan McGlone: Family's final Hillsborough tribute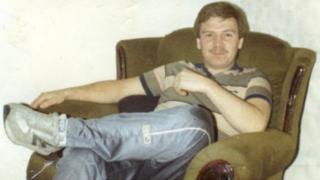 The family of a 28-year-old father-of-two who died in the Hillsborough stadium disaster are holding a memorial service.
A private service on Saturday evening at St Chad's Church, Kirkby, will celebrate the life of Alan McGlone.
It has been organised by his daughters Amy, 32, and Claire, 29, and their mother Irene.
Amy, who was five when her father died, said she had never properly grieved for him.
In April the Hillsborough Inquests concluded that the tragedy's 96 victims had been unlawfully killed.
---
More on those who died at Hillsborough
---
"We said about two years ago when everything was over we would try and hold a service so he can be laid to rest," she added.
In a statement read to the inquests in April 2014 on behalf of her mother Irene, Ms McGlone said: "Due to the events of the day [19 April 1989], we didn't leave the house.
"That night I had to put the girls to bed, kiss them good night and as I was walking out of their room, Amy sat up and said, 'Mummy, will you tell Daddy to come in and wake us up when he gets home?'
"I am still waiting to wake my girls up out of this nightmare and send their Daddy in to them."
The service will be led by Rev Norma Nelson who led Mr McGlone's funeral in 1989 and has come out of retirement.