Hillsborough survivor meets 'hero' rescuer after viral appeal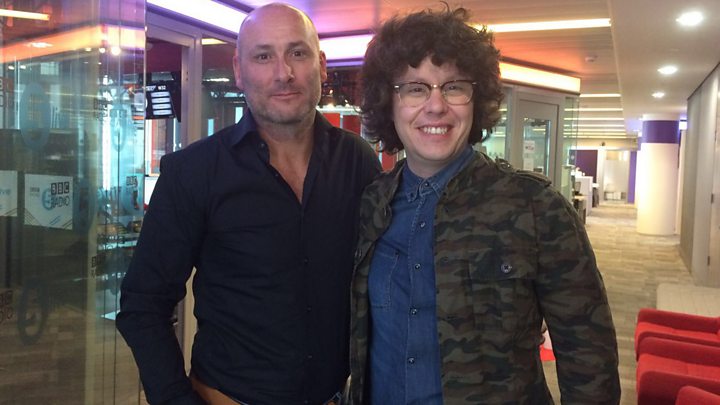 A Hillsborough survivor has finally met the man who pulled him from the crush as an eight-year-old boy 27 years ago.
Joe Smith, 35, launched a Facebook appeal after seeing himself on the shoulders of his rescuer while watching a BBC Two documentary.
The post was shared 145,000 times and was seen by John McMahon, from Flintshire, who was 16 years old when he pulled Joe from the packed terrace.
He sent a message saying: "Hey the person you're looking for - it's me."
Mr McMahon, from Flintshire, had also been watching the documentary and recognised himself standing behind the goal.
He said: "It was the first time I'd seen the footage. It was very surreal, a lot of emotions were coming back.
"A couple of days later I was lying on a beach in Antigua with my wife when a friend texted me and said 'listen the lad is looking for you'.
"It was all over Facebook, all over Twitter - the shares were going crazy, so it got to a point where I thought it's time for me now to contact Joe myself."
Mr McMahon had travelled with his father and sister to watch Liverpool play Nottingham Forest in the FA cup semi-final on 15 April 1989.
He said: "We got into pen three and realised straight away it wasn't a good situation to be in. We couldn't get out and all went off in different directions.
"I stood on a barrier and could see what was happening around me and it wasn't very nice. I knew I had to get out of there.
"The crowd lifted me up and 'surfed' me forward and I got to the front and jumped over the barrier.
"I was on the pitch before the game had finished."
Mr McMahon and other fans started to open gates to help people escape the crush,
"I saw this little lad who didn't look in a very good state so I just reached in grabbed him and pulled him out."
He is modest about his actions and insists he did nothing extraordinary.
"There were thousands of other fans doing exactly the same thing," he said. "If you've grown up with the right family values you just know what to do and it was the right thing.
"What happened that day with Joe was something I've never forgotten about, but I knew he was OK.
"After I reconnected him with his stepdad I knew he was OK, he was alive, he was well. But some of the other people I helped that day weren't as fortunate."
Mr Smith, from Kirkby in Merseyside, insists he is "a hero".
He said: "His focus was on me, trying to reassure me and get me focussing on trying to find my stepdad, not on what was actually happening around me.
"You bounce back from things when you're a child but there are still bad memories I have from that game and I think if I'd been wandering around on the pitch on my own, the memories I carry would be a lot worse."