Hillsborough survivor finds 'hero' rescuer after viral appeal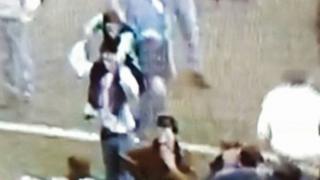 A Hillsborough survivor has found the "hero" who pulled him from the crush as an eight-year-old boy.
Joe Smith, 35, launched a Facebook appeal after seeing himself on the shoulders of his rescuer while watching a BBC Two documentary.
Mr Smith said the response had been "absolutely phenomenal" and "beyond anything I could have imagined" after the post was shared 145,000 times.
The pair have since been in contact and are now arranging to meet.
Mr Smith, from Kirkby in Merseyside, said: "He's a guy I've always had in my thoughts and I've always spoken about when people ask me about my experiences.
He said the man, who wishes to stay anonymous, "couldn't get his head round the fact I said he was a hero".
"He said he was just a normal fellow, and I said 'well you are mate get used to it'," he added.
Mr Smith had travelled with his stepfather and brother to watch Liverpool play Nottingham Forest in the FA cup semi-final on 15 April 1989.
Inquests last month concluded 96 fans who died in the crush were unlawfully killed.
Mr Smith said his legs were being crushed as he stood at the Leppings Lane end of Sheffield Wednesday's stadium, and his stepfather lifted him to get him out.
He was passed over people's heads and taken to the other end where fans looked after him.