Afro Supa Hero exhibition celebrates black cultural icons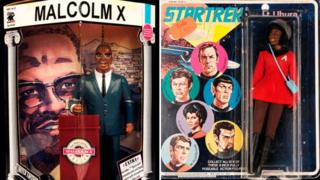 Black heroes and heroines are being celebrated in a new exhibition of comics and memorabilia.
"Afro Supa Hero" at the Liverpool Slavery Museum draws from artist Jon Daniel's personal collection of cultural icons of the African diaspora.
Over 22 years, Mr Daniel collected comics, games and action figures featuring positive black role models.
"Such vivid and colourful illustrations bring to life the stories of black men and women," he said.
"[Their] achievements changed both their lives and those of generations to come."
Figurines of Muhammad Ali and Nelson Mandela feature in the show alongside fictional characters like Mr. T.
He began his collection after recognising the lack of positive black role models growing up in suburban Britain in the 1970s and 80s.
Mr Daniel said he "was blown away" when he found he could "get a Malcom X figure" and "encountering these real-life heroes inspired my collecting."
He has accumulated more than 100 pieces over 22 years and has designed his own Afro Supa® Star Twins for the exhibition.
Mr Daniel explained he does not see "a distinction between real super heroes and fictional ones", so chose to include pop culture icons such as Lieutenant Uhura from Star Trek and Lister from Red Dwarf.
"I've always been interested in uncovering black history, so the whole notion of super heroism is a segue into finding out the truth and the real stories that lie behind a lot of our history, which has either been appropriated, stolen or forgotten.
"Those who feature in these comic books like Harriet Tubman and Frederick Douglass made great contributions to literature, the improvement of political and legal systems, the abolishment of slavery and greater racial equality," he said.
Dr Richard Benjamin, head of the museum, said the exhibition challenges "issues such as racism and discrimination" in "an innovative and thought-provoking way".
The exhibition will run until 11 December.