Merseyside PCC candidate David Burgess-Joyce was sacked by Soca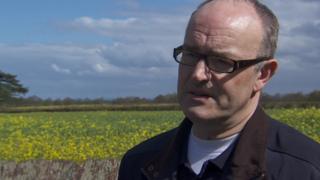 A candidate for Merseyside's police and crime commissioner was sacked by the former Serious and Organised Crime Agency (Soca), it has emerged.
Tory councillor David Burgess-Joyce was "dismissed for misconduct", Soca's successor organisation the National Crime Agency (NCA) said in a statement.
Labour MP Angela Eagle said she was "incredibly concerned" and urged him to consider resigning as a councillor.
Mr Burgess-Joyce has rejected allegations of any wrongdoing.
The Wirral councillor confirmed he left Soca the day before it became the NCA in 2013, after being prompted to issue a statement responding to an article in the Liverpool Echo.
'Truly shocking'
"I totally refute any allegations of untoward expenses claims on my part during my time working with the agency," he said.
"I can confirm that I have no criminal record, have never been arrested or investigated by police or HMRC and retired from the Merseyside Police Special Constabulary in February 2014 due to health reasons."
Mr Burgess-Joyce said he signed a non-disclosure agreement when he left Soca, which means he cannot reveal anything about the circumstances of his departure. However, he is taking legal action to get the agreement overturned.
He alleged he was the victim of a smear campaign.
But Ms Eagle, MP for Wallasey, said the people of Merseyside would find the news "truly shocking".
"I am incredibly concerned and think the Tories have a lot to answer for in putting this man forward for such an important role," she said.
"I understand he has attended meetings at Downing Street with the prime minister and posed for pictures with the home secretary.
"Did they know about his past? If they did, they have some serious explaining to do to the people of Merseyside."
'I'm surprised'
She said it was too late for him to withdraw from the PCC election, but added: "I have serious doubts about his continuing as a local councillor."
Lib Dem candidate Christopher Carubia, who also serves on Wirral council, said: "I'm surprised by this. I know Mr Burgess-Joyce and he has always seemed to be a nice guy.
"My main concern is that former police officers should not stand for PCC as they still bring the police culture with them."
Other candidates for the PCC election are Jane Kennedy (Labour), and John Coyne (Green).