Iconic Ford Capri used in The Professionals sells for £48,000 at auction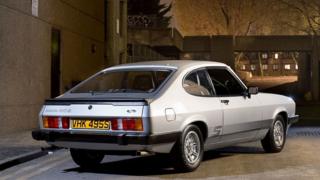 A car used in several episodes of the cult 1970s TV series The Professionals has sold for £48,000 at auction.
The restored 1978 Strato Silver Mk3 Ford Capri, driven by Lewis Collins's character Bodie, had been expected to fetch at least £35,000.
It was one of three pre-production Capri S cars from Ford's 1978 press fleet of about 150 cars.
Collins died at his Los Angeles home in November 2013, aged 67, after a five-year battle with cancer.
The identity of the buyer has not yet been revealed by Warrington-based H&H Auctioneers.
The Professionals, which starred Gordon Jackson, Lewis Collins and Martin Shaw, ran for six years between 1977 and 1983.
A movie was planned in 2011 by creator Brian Clemens, with James Bond actor Daniel Craig and Dr Who's David Tennant said to be linked.
---
The Professionals
Based on the fictional crime fighting unit CI5
Fifty-seven episodes were produced between 1977-83
The Ford Capri was used in seven episodes of series two
Birkenhead-born Lewis Collins was a hairdresser before turning to acting
---