Hermaphrodite rescue kitten Bellini finds new home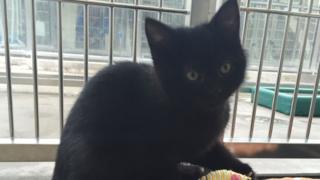 A hermaphrodite rescue kitten which left rescuers at a loss over how they should refer to it has been rehomed.
Nine-week-old Bellini was initially thought to be male after being found dumped aged just a few days old.
But a routine neutering operation by vets discovered the kitten had male and female genitalia.
The manager of Cats Protection's adoption centre in St Helens said Bellini and sister Daiquiri were rehomed together on Monday.
Staff at the centre previously said it would be up to Bellini's new owners to choose a gender.
They described the kitten, which has a heart murmur, as a "cutie pie".