'Missing' World War Two bomber pilot to be honoured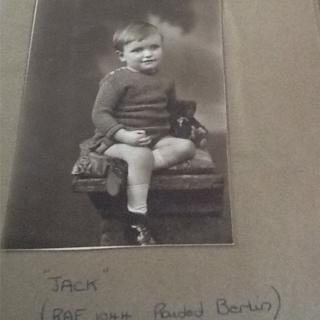 A bomber pilot from Liverpool who has been listed as missing in action since World War Two is to be honoured after his final resting place was confirmed.
Pilot Officer John Donald Range Cromarty, whose Lancaster Bomber was shot down in 1944 over Berlin, had been buried as an "unknown soldier".
Now the Ministry of Defence (MoD) has confirmed his identity.
His grave in Berlin will be rededicated on 27 April, along with two crewmates and three from a Halifax bomber.
Pilot Officer Cromarty, 22, died during an Allied bombing raid on the German capital on 2 January 1944.
Following an MoD appeal for information, two of his cousins have been traced.
Rebecca Owen, from Hereford, said her mother had been close to Mr Cromarty.
The only record the family have of him is a photo of him as a young boy, with the words: "Jack raided Berlin 1944" written underneath.
"We want to find out more," she told BBC Radio Merseyside.
January 1944 was the worst month in the history of Bomber Command in general, and Pilot Officer Cromarty's 156 Squadron in particular.
Bomber crews were said to have a life expectancy of six weeks at that time.